It seems the holiday season is already upon us. Stores are putting up Christmas displays and the sound of Christmas music is already sneaking onto commercial radio playlists. But before we dash through the snow, let's start with Halloween. We know that our readers have a penchant for the dramatic, so we have compiled a list of creative costumes inspired by some of our favorite Broadway productions.
Dorothy, The Wiz
Are you looking for a classic costume that's easily identified and even easier to put together? Look no further than "Dorothy"! All you need is a light blue gingham dress with a silk ribbon at the waist, or a white blouse and light blue skirt, white tights or lacy socks and of course you MUST rock the sparkly shoes. To finish the look, style your hair into two ponytails and you are ready to travel the yellow brick road!
Rafiki, The Lion King
Are you the creative type with time on your hands? Well consider "Rafiki" from The Lion King. This character is full of color and the costume opens up a world of possibilities for the open minded costumer. Face paint in bright colors and an assembly of colorfully beaded necklaces and bracelets, rattan rope, burlap and fur embellishments should get you well on your way to bringing this dynamic character to life.
Hedwig, Hedwig and The Angry Inch
If fabulous is your destination and you've got the confidence of a rockstar, then what better inspiration than rocker "Hedwig"? Platform shoes, BIG blonde hair, distressed denim with your own graffiti are necessary to pull of this costume. The essential ingredient is a ton of super glittery and flamboyant makeup and voila! You are ready to rock any Halloween party.
Marvin Gaye, Motown The Musical
Let everyone know exactly "What's Going On" when you arrive at the Halloween party. Channeling the soulfulness of "Marvin Gaye" is a breeze with just a few simple items. A red toboggan or a simple crocheted kufi,  a plainly colored tee shirt layered with a denim shirt and denim jeans should do the trick. Top it off with a beard and you will be ready to croon or maybe lip sync the night away.
Dreamgirls
There's only one thing that more fun than dressing up for Halloween and that's pulling off an ensemble set of costumes. A perfect play for the ensemble outfit for you and few of your diva friends, the fellas or a mixed group of Halloween revelers. Ladies, whip out those once used bridesmaid dresses from the back of your closets and fellas hit your local thrift store for wide collars, swinging bell bottoms or an extra shiny and tight suit. Ladies, tease your hair into a sleek updo or a big bouffant and gentlemen pick out your hair or make a quick stop at the beauty supply for a short conked out wig and your ensemble is ready to go.
Motormouth Maybelle, Hairspray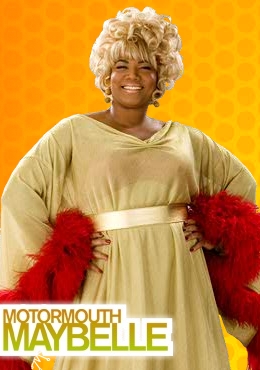 Are you looking to make an impact as soon as you step on the scene? If so, "Motormouth Maybelle" is the character for you. The easiest way to pull off this costume is to start with a gold or satin dress. Purchase a couple of red feather boa's and attach them to the hem and sleeves. Finish off this sassy look with a blonde wig with curls as tall and plentiful as you can make them and you are ready to liven up any party.
We hope you enjoy these costumes inspired by our Black Broadway stars. Tweet us a picture of what you decided to wear @broadwayblack!