Cynthia Erivo, Queen Regnant of Broadway, Snatcher of Wigs has slain us again! Erivo took the stage at Broadway Backwards, an annual concert that brings Broadway's stars together for a night of gender-bending performances, in solidarity with LGBT community.
At this year's concert, Erivo ended the evening with a gospel-infused version of Ragtime's "Make Them Hear You," leading the Broadway Backwards ensemble with the same passion we remember from her days at The Color Purple.
Ariana DeBose, joined by Megan Sikora, performed "It's De-Lovely" from Anything Goes. Having appeared in five Broadway shows, DeBose has gone from ensemble member in Bring It On and Hamilton to lead in A Bronx Tale. The triple threat brought her charm and musicality to the Broadway Backwards performance, with her irresistible smile and killer choreography leaving the crowd swooning in her wake.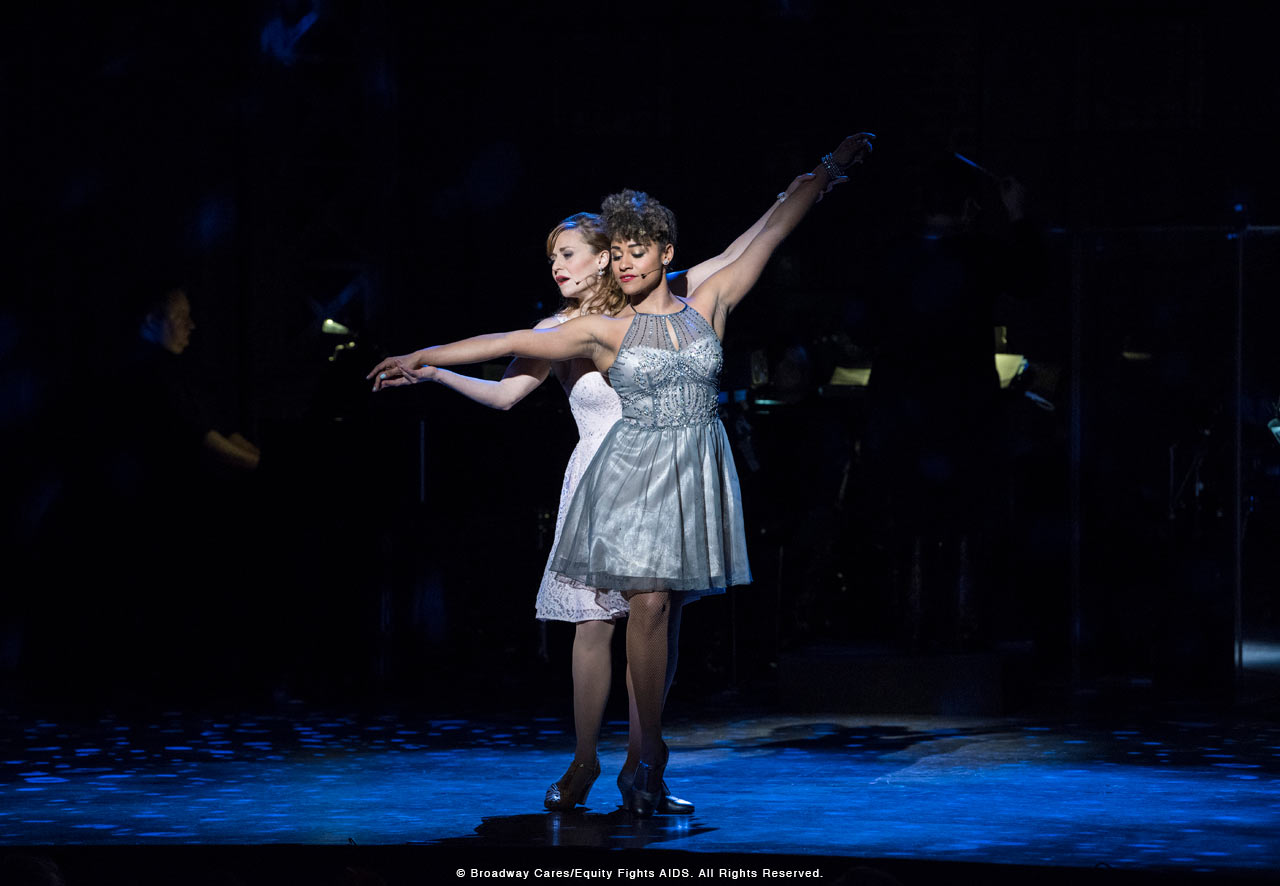 Other performers included Clyde Alves, Elizabeth Stanley (On the Town), Sierra Boggess (The Little Mermaid, The Phantom of the Opera), Josh Groban (The Great Comet of 1812), and Len Cariou (Sweeney Todd).
Creator Robert Bartley wrote, directed, and choreographed this year's show, with additional choreography by Penny Ayn Maas, Christopher Rice, and Adam Roberts.
Broadway Backwards has raised money for Broadway Cares/Equity Fights AIDS for more than a decade. Previous concerts have featured performances by Brian Stokes Mitchell, Titus Burgess, Norm Lewis, and Billy Porter, raising as much as $480,287 for the fight against HIV/AIDS. This year, the concert brought in a whopping $522,870! This event is just one of the many annual fundraisers; upcoming events include Easter Bonnet Competition and Broadway Bares.
Find out more about the events here!
Save
Save
Save
Broadway said "What Blackout?!" and Took Their Talents Outside
The power went clean out in most of Manhattan on Saturday night. The Broadway League released a statement saying most of the shows were canceled and that the power should be restored before the following Sunday matinee. That did end up happening but right after the blackout happened casts of Broadway shows took to the streets to offer up their voices in song to the delight of the many people in the streets who were evacuated from the Broadway houses and neighboring establishments.
Take a look at what shows popped off in the streets of midtown Manhattan!
Of course, Tony Award Winner André De Shields snaps off with the cast of Hadestown at the Walter Kerr Theatre
When there's a blackout at @hadestown we take the party outside! #oohitsablackout pic.twitter.com/DCOwQWqRaq

— Kimberly Marable (@misskimizzo) July 14, 2019
Broadway shows on sidewalks during the #blackout convinces me even more of the power and importance of the arts. pic.twitter.com/4EGTnKrAqo

— Joe Harrell (@JoeHarrellNYC) July 14, 2019
2. The cast of Aint Too Proud singing Stevie Wonder's "Happy Birthday" to someone in the crowd from their dressing room windows at the Imperial Theatre. The tweet with the video it's the cast of Hamilton but twitter did its thing and they quickly corrected them. It was an honest mistake, Hamilton is right next door.)
@cnn @HamiltonMusical was cancelled due to the blackout. The cast sang to us from above the Rodgers Theater in NY. It was awesome! pic.twitter.com/HV6cf1tTzG

— Antony (@lemonfuzz) July 14, 2019
3. The cast of Come From Away:
Impromptu performance #broadwayblackout @wecomefromaway pic.twitter.com/PfHYZeFJ6v

— Chad Kimball (@chadkimball1) July 14, 2019
@wecomefromaway wins the #blackout!!! pic.twitter.com/0GOmodbnBX

— Billy Recce (@BillyRecce) July 13, 2019
4. The cast of Waitress:
The cast of @WaitressMusical entertaining stalled theatergoers outside during the NYC blackout. (via @meganrgaffney) #Blackout #NYCBlackout pic.twitter.com/vLLnAcKV8D

— Dave Quinn (@NineDaves) July 14, 2019
5. The cast of Frozen:
Crazy night in NYC. No @FrozenBroadway tonight. #blackout2019 #snowday @PattiMurin dropping the…beat? Hey @Lin_Manuel not my best sampling – but I'm available. LOL. pic.twitter.com/IDc599gvxW

— Robert Creighton (@RCreightonNYC) July 14, 2019
You can cancel our show, but you can't stop us from singing! #FrozenBroadway #Blackout #Blackout2019 pic.twitter.com/I76aJlBE4q

— Patti Murin (@PattiMurin) July 14, 2019
West Side Story's Cool Reimagined by Los York Studios And It's Pretty… Cool!
As described in their mission statement, Los York is "an integrated production company that executes live action, design, and experimental projects." An older project of the company resurfaced recently, a reimagined rendition of West Side Story's "Cool" scene, is now circulating throughout the internet. The Emmy Award winner and director of the video, Seth Epstein has brilliantly captured the story of rivalry within two different ethnic groups, but this time with more melanin!
The video also features music by Jimek (Run the World Dave Aude Club Remix), and choreography by Keone and Mari Madrid (SYTYCD).
The electrifying footwork, where pirouettes are replaced with pop locking and break dancing in the place of battements, provides hope for bridging racial gaps and relieving tensions. This style is more interpretive, with urban based movements that add an extra layer to some of the barriers printed in the original 1957 production.One thing that I appreciate about the classic musical West Side Story is its transcendent nature and ability to comfortably conform to whatever generation of interest.
Above all else, West Side Story is a love story, a modernized interpretation of Shakespeare's Romeo and Juliet. The timelessness in the modernized story–tension between two lovers of opposite gangs–reveals past and present issues found in American society however old and reoccurring they may be. The Los York video demonstrates that flexibility and once again creates an even bigger space for a fabulous classic.
Watch for yourself!