Cynthia Erivo, Queen Regnant of Broadway, Snatcher of Wigs has slain us again! Erivo took the stage at Broadway Backwards, an annual concert that brings Broadway's stars together for a night of gender-bending performances, in solidarity with LGBT community.
At this year's concert, Erivo ended the evening with a gospel-infused version of Ragtime's "Make Them Hear You," leading the Broadway Backwards ensemble with the same passion we remember from her days at The Color Purple.
Ariana DeBose, joined by Megan Sikora, performed "It's De-Lovely" from Anything Goes. Having appeared in five Broadway shows, DeBose has gone from ensemble member in Bring It On and Hamilton to lead in A Bronx Tale. The triple threat brought her charm and musicality to the Broadway Backwards performance, with her irresistible smile and killer choreography leaving the crowd swooning in her wake.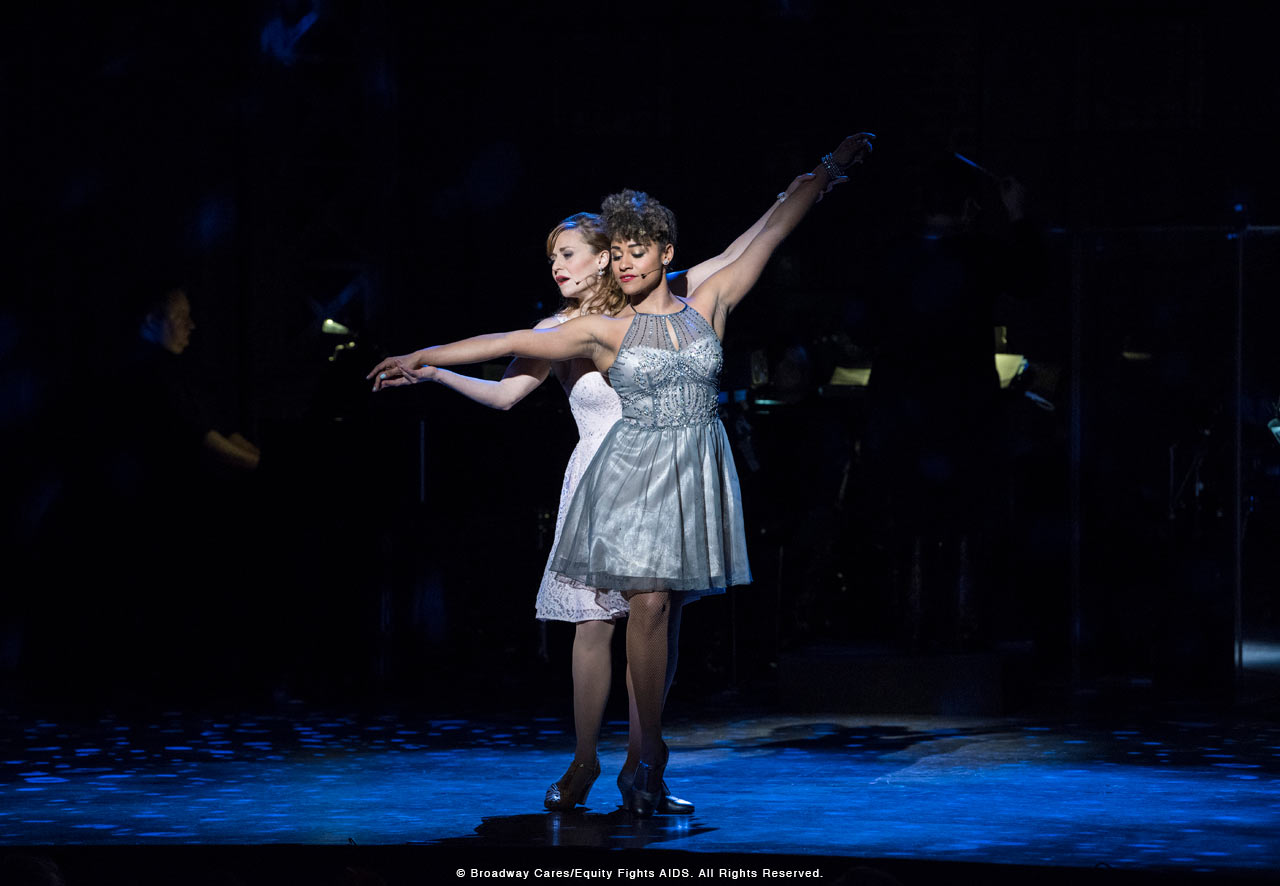 Other performers included Clyde Alves, Elizabeth Stanley (On the Town), Sierra Boggess (The Little Mermaid, The Phantom of the Opera), Josh Groban (The Great Comet of 1812), and Len Cariou (Sweeney Todd).
Creator Robert Bartley wrote, directed, and choreographed this year's show, with additional choreography by Penny Ayn Maas, Christopher Rice, and Adam Roberts.
Broadway Backwards has raised money for Broadway Cares/Equity Fights AIDS for more than a decade. Previous concerts have featured performances by Brian Stokes Mitchell, Titus Burgess, Norm Lewis, and Billy Porter, raising as much as $480,287 for the fight against HIV/AIDS. This year, the concert brought in a whopping $522,870! This event is just one of the many annual fundraisers; upcoming events include Easter Bonnet Competition and Broadway Bares.
Find out more about the events here!
Save
Save
Save
West Side Story's Cool Reimagined by Los York Studios And It's Pretty… Cool!
As described in their mission statement, Los York is "an integrated production company that executes live action, design, and experimental projects." An older project of the company resurfaced recently, a reimagined rendition of West Side Story's "Cool" scene, is now circulating throughout the internet. The Emmy Award winner and director of the video, Seth Epstein has brilliantly captured the story of rivalry within two different ethnic groups, but this time with more melanin!
The video also features music by Jimek (Run the World Dave Aude Club Remix), and choreography by Keone and Mari Madrid (SYTYCD).
The electrifying footwork, where pirouettes are replaced with pop locking and break dancing in the place of battements, provides hope for bridging racial gaps and relieving tensions. This style is more interpretive, with urban based movements that add an extra layer to some of the barriers printed in the original 1957 production.One thing that I appreciate about the classic musical West Side Story is its transcendent nature and ability to comfortably conform to whatever generation of interest.
Above all else, West Side Story is a love story, a modernized interpretation of Shakespeare's Romeo and Juliet. The timelessness in the modernized story–tension between two lovers of opposite gangs–reveals past and present issues found in American society however old and reoccurring they may be. The Los York video demonstrates that flexibility and once again creates an even bigger space for a fabulous classic.
Watch for yourself!
Stunning First Look of Condola Rashad as Joan of Arc Met with Racist Fury
Previously it was announced that three-time Tony nominee Condola Rashad would star on Broadway in Saint Joan, playing the iconic role of "Joan of Arc." However, it was the first look photo, released this weekend by Manhattan Theatre Club, that caused quite the stir. Broadway is no stranger to rolling the dice with shaking up the race and gender of a role, yet this time the response was immediate and toxic, and even racist at times. As commentary flooded social media, people questioned the appropriateness of changing the race of the 15th-century heroine from white to black, and if changing historical black characters to white would ever be acceptable. According to Shadow and Act, Rashad is only the second black actress to play Saint Joan on Broadway, the first being Diana Sands (the original Beneatha Younger in the stage and film versions of A Raisin in the Sun) in the 1968 Broadway revival.
Drumroll please… here's your first look at Condola Rashad (@phloella) in character as Joan of Arc!
😍 pic.twitter.com/ETxkvu3HcC

— MTC (@MTC_NYC) February 2, 2018
Gorgeous, right?!
The Maid of Orleans was an African-American?

So school lied to us about this famous historical, non-fictional character.

Now, thanks to the MTC, I know the truth.

We should burn all those misleading paintings of the lass promoting the false White version of world history. pic.twitter.com/fAa3WUweuJ

— Jim Hawkins (@scotbot) February 3, 2018
Why would you cast someone who looks nothing like the character unless you had a serious anti white hatred? pic.twitter.com/Kiz9WDUmh3

— John Sposato (@MemeAlertNews) February 3, 2018
Let's cast MLK as a white male and see what happens 🤔

— Tanner Zimmerman (@Zimmerman44) February 3, 2018
Drumroll please, for another case of flagrant blackwashing of European heritage. Funny that my opinion is a hate crime but porpousedly eliminating white characters from casts about white history is not.

— Kizay Yazik (@Alonso_Smiley) February 3, 2018

…and these are just a few reactions, some receiving more attention than the original post.
The theatre has always been a place of challenging the status quo across gender, sex, and race, changing the identity of characters to create new storylines and ways of thought around lived experiences. Broadway has long stood as one of the first places where social change can take place in a more radical sense to be dispersed to the masses, and appreciated.
In response to some of the "outrage", Manhattan Theatre Club released this statement to Broadway Black:
"Manhattan Theatre Club is proud to be producing Bernard Shaw's timeless and powerful play SAINT JOAN on Broadway at our Friedman Theatre starting performances April 3rd.

The role of Joan has been played on Broadway by some of the finest actresses of their generation and we are thrilled that Condola Rashad will continue that tradition and star in our production directed by Daniel Sullivan."
This is not the first instance of a show changing the race of a cast to present historical figures in a different light. In 2016, the musical Hamilton took the history of the founding fathers and flipped it entirely on its head. Rather than cast white actors, historical figures like Aaron Burr, Alexander Hamilton, George Washington and others were played by African Americans and Latino's; using rap as the vessel of dialogue in the play discussing the birth of America, and life of Alexander Hamilton after the revolutionary war. The play took home 11 Tony Awards and was the first sign of a noted shift in how actors of color could play roles traditionally meant for white actors, and excel.
In 2017, Once on This Island debuted with a spin on traditionally hetero black characters, bringing in Tony Award winner for Miss Saigon, Lea Salonga to play Erzulie, and Alex Newell of Glee fame to play Mother Nature. They also decided to take the role of Papa Ge, traditionally played by a black man and cast Merle Dandridge. Director Michael Arden stated "In casting the Gods that inhabit our island, it became imperative for me to break expectations and stretch beyond the bounds in which Gods are traditionally represented. It felt important that young people watching our production see themselves reflected back from the stage at them. The Gods are simply that: Gods. They are not bound by gender, race, sexuality or being human at all. I'm so very pleased to be collaborating with these four artists exploring the important and timely themes of this musical through their unique and incredible abilities."
It is necessary for Broadway to continue to show representation and visibility in a new light, continuing to break barriers and stereotypes in an effort to create change in the way we see one another in society. As roles for actors of color are limited, they are often placed in situations where they must audition for characters traditionally played by white actors and actresses. Furthermore, Broadway continues to struggle with green lighting new productions that call for casting that requires actors of color. As diverse as the 2016 Tony Awards was, 2017 reverted back to the "Great White Way" seeing James Earl Jones received an untelevised lifetime achievement award, and August Wilson's Jitney take home Best Revival of a Play.
Sunday evening, the incredibly brilliant multi-talented Mr. James Earl Jones, received the Special Tony Award for his lifetime achievements on the Broadway Stage. Unfortunately, the Tony Awards decided to air only a taped portion of Mr. Jones speech rather than allowing him to speak live, …
Condola Rashad continues to wow audiences in every role she has ever tackled, and this will be no different. Broadway Black is excited to see Ms. Rashad take on the lead role of heroine Joan of Arc, where her performance and not her race will be the main talk of the town.
Saint Joan is set to begin previews at the Samuel J. Friedman Theatre on Broadway April 3, 2018, ahead of an April 25 opening. The show will complete MTC's 2017–2018 season lineup.